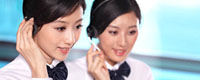 Tel: +86-532-86675626
Fax: +86-532-80615836
E-mail: info@flotation-reagents.com
Add: Qingdao export processing industry zone,Qingdao,Shandong,P.R.China

Skype: flotation-reagents



Qingdao Bright Chemical Co., Limited
is specialized in manufacturing multi-series of flotation reagents and Thioglycolate salts. It's located in Qingdao with convenient transportation and favorable geographical conditions.

Our current production annual capacity is: Xanthates 50000MT, Dithiophosphates 10000MT, Isopropyl Ethyl Thionocarbamate 3000MT,Dithiocarbamates 1000MT/annum,Methyl Isobutyl Carbinol(MIBC) 5000MT,
Thioglycolic acid and its derivatives 12000MT.

Thioglycolate products include 2-ethylhexyl thioglycolate, methyl thioglycolate etc, they are raw material of herbicide and pharmaceutical intermediate and PVC heating stabilizer; Floatation reagent system includes thionocarbamates,xanthates,Dithiophosphates and Dithiocarbamates etc.

The company has advanced equipment and technology and excellet scienfic managers and well-experienced experts ,and establishes medicine application ore-dressing lab,coal preparation laboratory, and medicine analysis room.With top quality, our products are very popular.So far, our products are exported to Europe,Africa and the Southeast Asia etc.

We always go all out to provide clients with satisfactory services with "the lowest price, the best product".
We welcome friends all over the world to visit and negotiate with us.


Qingdao Bright flotation reagents are equivalents to Base
Z-3,Z-4,Z-6,Z-7,Z-11,Z-14,AC325,AERO350,BK301,
AEROFLOT 241,AERO 242,AERO 407,AERO451,AERO 507,AERO 3477,AERO 238,AERO 208,Z-200,DSP009,AERO 25

Tionocarbamato Matcol D-101 Mathiesen NP-107 Clariant, AERO 3894 PROMOTER Base Xantoformiato Colector de cobre Dialquil Xantoformiato. Aero 3758 Promoter (ex SF-758); Hostaflot P-24, Z-11, AERO 343 XANTHATE , AERO 317 XANTHATE ,SF-113, XANTATO RENASA, XANTATO SF-926,Z-9,Z-3,Z-4,Z-7,Z-14,Z-6,SF-114,Z-200, MINEREC1661; HOSTAFLOT X-23; SF-323, SF-554,DANAFLOAT 262, AERO 5100 PROMOTER, AERO 211 PROMOTER, HOSTAFLOT LIP, SODIUM AEROFLOAT PROMOTER, HOSTAFLOT LET, DANAFLOAT 145, AERO 3477,SF-554.HOSTAFLOT LIB, DANAFLOAT 245, AERO 3501 PROMOTER, HOSTAFLOT LAM, AERO 238 PROMOTER,DANAFLOAT 345, SF-3501,DITHIOPHOSPHATE 25S, AERO 208 PROMOTER, DANAFLOAT 468, AEROFLOAT 31 PROMOTER, AEROFLOAT 241 PROMOTER, Flotanol C-7,AEROFLOAT 242 PROMOTER, AERO 404 PROMOTER, HOSTAFLOT M 91, AERO 407 PROMOTER; DANAFLOAT 271,571 , AERO 4037 PROMOTER,MIBC,DANAFLOAT 507, 507C, 517, AERO 6697 PROMOTER, AERO 3302 PROMOTER, AERO 400 PROMOTER ,DANAFLOAT 171 , AERO 7249 PROMOTER, AERO 9887 PROMOTER, AM2,AERO 5460,AERO 5415, REAGENT S 5569, S5570, S 5500, AERO 7016, AERO 7279 PROMOTER ,AERO 7249A PROMOTER, AERO 5547 PROMOTER, AERO 7151, AERO 7640, AERO 7518, MX7015, MX3048, AERO 6682 PROMOTER, Dowfroth 200, Dowfroth 250, AERO 5747 PROMOTER, AERO 845 PROMOTER, AERO 7380 PROMOTER, AERO 5540, AERO 5560,AERO 8809 PROMOTER, AERO 8985 PROMOTER, AERO 8987 PROMOTER, AERO 8989 PROMOTER, AEROFROTH 65 FROTHER, AEROFORTH 70 FROTHER, AEROFROTH 76A FROTHERS, OREPREP FROTHERS X-133, AERO XD5002 PROMOTER, AERO 5100 PROMOTER, AERO MX5149 PROMOTER, AERO 9887 PROMOTER, MONTANOL 800.